Sixt AG
Sixt is among Europe's leading mobility service providers and is on a successful international expansion path. In 2010, a turnover of approx. 1.5 billion euros was achieved globally. Sixt leasing and rental stations for cars are found all over the world – in over one hundred countries.
Sixt offers far more than just short-term rental of business vehicles: from simple cars, to luxury vehicles including limousine services, a car for holidays, on through to trucks, be it rental, leasing or purchase – Sixt has the right offer for you!
Since 2007, rexx systems has been supporting the international expansion path. Today, job advertisements from the most important countries are offered in English, German, French, Spanish or Dutch in an international online job portal through rexx recruitment.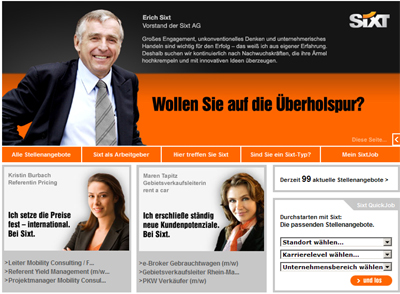 The rapid expansion of the global company required not only an e-Recruiting software that could be implemented internationally, but also individual support for the relevant national subsidiaries through experienced project managers. rexx systems had the advantage of internationally experienced personnel who supported the different countries optimally with regard to specific, national recruitment requirements and applicant management.
rexx systems already possessed great expertise in the specific industry of vehicle hire and leasing. With Europcar, also a globally active rexx customer, rexx systems already gained a great deal of know-how of applicant management in this industry. Even though Sixt and Europcar are fierce competitors, both companies benefit from the leading European recruitment software.
The fast international growth of Sixt was also evident in its recruitment process, of course. In order to make the filling of vacancies even more efficient, Sixt needed applicant management software that ensures the fast and professional handling of global recruitment processes in direct cooperation with station networks and specialist departments.
For this modern company, which also offers sophisticated e-commerce services in the mobility area, it was important to support the application process centrally with a well thought out and effective e-recruitment solution.
With rexx Enterprise Recruitment, Sixt now has the possibility to integrate all branches, directly and paperless, into the advertisement and applicant selection process. rexx controls and optimises the entire process, from the creation of a job advertisement to its publication via various channels (online, print, rexx job portal), the forwarding to the specialist superiors, organising and evaluating the interviews, on through to contract creation.